ERP providers-There's been a lot written about how some of the traditional accounting services have been contracting in recent years. Unfortunately, it's nothing new. Clients have been increasingly doing their own writeup work for years and tax prep is also experiencing client migration to do-it-yourself software, although the Tax Cuts and Jobs Act will probably produce a spike in clients returning to the fold. If you've been examining your practice and prospects, here's a possible new arrow in your quiver: enterprise resource planning (ERP) consulting.
For a long time, the acronym ERP struck fear into the hearts of accountants everywhere. OK, that may be a slight exaggeration, but it's true that it was common wisdom that ERP systems were only for very large organizations — but I've said before that its the complexity of a business, not its size, that makes it a viable candidate for ERP.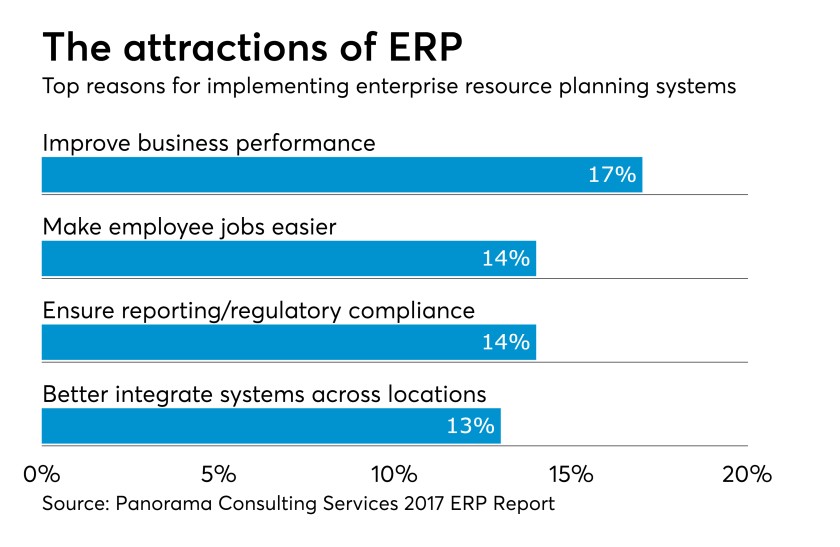 But in addition to this mindset, one obstacle to implementing ERP, and in the process, gaining enough experience to consult in that area, was the complexity of the software as well as the need for fairly extensive capital and personnel resources to support the hardware side and operating environment. But things have changed fairly recently.
There are still plenty of ERP systems that present these hurdles, and that set entrance bar so high that many accountants in smaller practices can't realistically compete in this market. But ERP is changing. What used to be the mid-market of accounting software offerings is starting to disappear as formerly high-end ERP vendors are hungrily eyeing the large number of your clients who are graduating from or outgrowing their QuickBooks capability, and so-called "basic accounting" software is trying to move up into enterprise level capabilities.
A case in point is Zoho. I mentioned back in March that Zoho was starting to look a lot like an ERP system with its recent additions and capabilities, all tied under a custom operating umbrella. It looks even more like one today. But then, coming from the opposite side of the spectrum is NetSuite. The company has, since its inception, stated that it was targeting QuickBooks users that were outgrowing their systems, and wanting to move them up into ERP.
The end result of this reshuffling and retargeting is that there now exists a current market for something I'll call "entry level ERP." Such a product has a number of traits in common that are somewhat different from both "basic accounting" and full-on heavy-duty ERP.