Assured cloud services provider announces tenth round of price reductions across its Cloud Storage and Enterprise Compute Cloud

London – 9th January 2017 – UKCloud, the easy to adopt, easy to use and easy to leave assured cloud services company, today announced its tenth round of price reductions, which are phased from 1st January 2017, across two of its most popular services: Cloud Storage and Enterprise Compute Cloud. The result of significant economies of scale and investment in hyper-converged infrastructure, UKCloud's latest price reductions coincide with price hikes elsewhere in the industry, particularly from US corporations.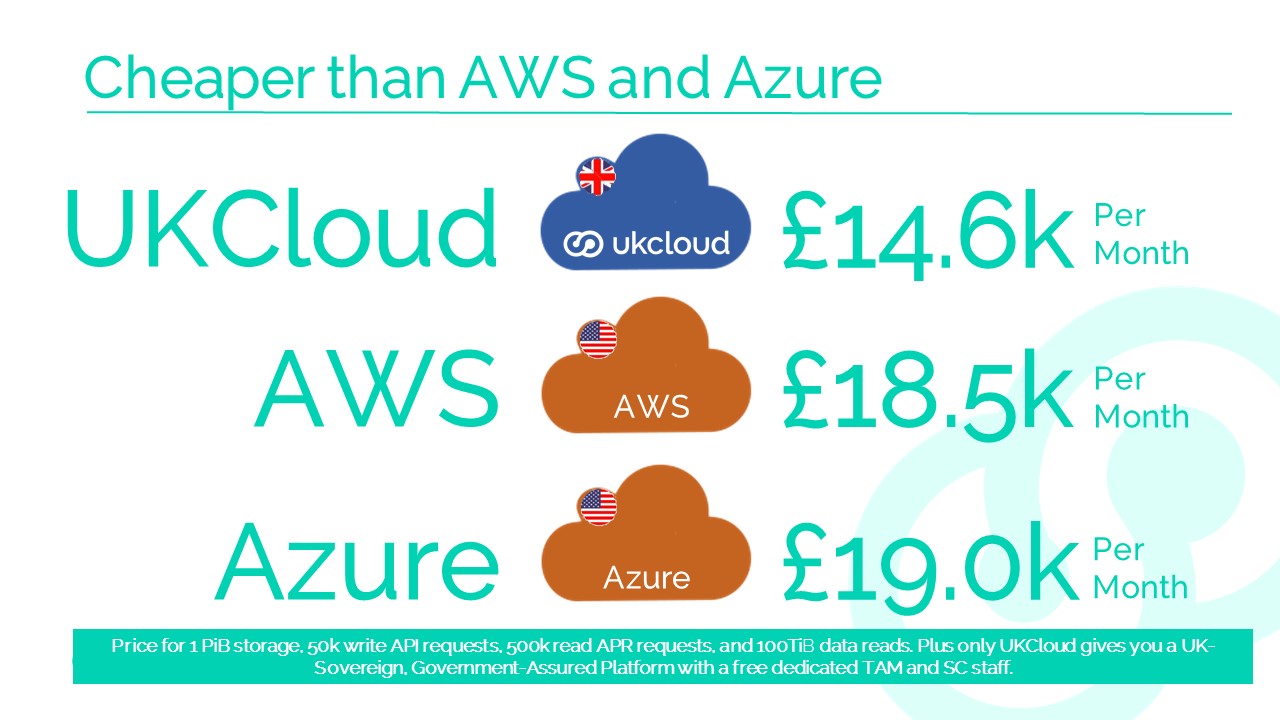 UKCloud's Cloud Storage provides a cost-effective storage repository for a variety of sensitive data assets, including body worn video and medical data. The company's investment in innovative hyper-converged infrastructure has completely refreshed the cloud storage platform, which is designed to deliver improved performance and functionality at a greatly reduced cost. Customers with large-scale requirements will pay just 1.5p per GB per month; this is a reduction of 66 percent and makes UKCloud's offering significantly cheaper than those of the leading US cloud providers. Customers with smaller requirements will see the price of their services fall by almost 80 percent, from 9p per GB per month to 2p per GB per month.
"We're delighted that our continued growth means that we can pass on these savings to our public sector customers," said Simon Hansford, CEO of UKCloud. "While we're now well known for introducing price cuts on a regular basis, our tenth wave of reductions coincides with cost increases from other providers, most notably US corporations. This means that not only are our services genuinely UK sovereign and as such, our customers' data is never subject to far reaching foreign data privacy issues, but they are also more cost competitive than ever before."
"We welcome UKCloud's continued focus not only on client service, but also client value. The latest price reductions, following a number of earlier such reductions, demonstrate UKCloud's ongoing focus on innovation and efficiency in order to continue sharing cost savings with its clients," commented Joanna Smith, CIO, Royal Brompton & Harefield NHS Foundation Trust. "The business case for using cloud is continually strengthened as additional price reductions are realised. This reduction of storage costs made possible by UKCloud's continued growth and scale have the potential to deliver immediate savings and increase value."
"We're delighted that UKCloud is significantly reducing the cost of cloud storage from the beginning of the New Year," commented Matt Howell, Executive Vice President and Head of Public Sector, Applications Services at Capgemini. "This will help our clients and enable us to continue to build cost effective, innovative and agile solutions for the UK public sector market."
Karen Young, Managing Director at MDS Technologies added: "The price of cloud storage affects us significantly, as we use storage repository for a multitude of sensitive data assets. Thanks to UKCloud, this reduction in cost will give us the best possible price point, and enable us to build our solutions around it."
David Strong, Head of Infrastructure Solutions at Sopra Steria commented: "We're delighted that our partner UKCloud, is significantly reducing the cost of cloud storage from the beginning of the new year. This will really help us to build cost effective, innovative and agile solutions for the UK public sector market."
Various virtual machine sizes on UKCloud's Enterprise Compute Cloud will also see significant price drops from 1 February 2017. The VMware powered cloud platform provides reliable and flexible hosting of a variety of virtual machines and customer workloads. Due to the continued growth of its platform, UKCloud has experienced additional scale economies that it is passing on to its customers. These apply to its largest virtual machine sizes of the POWER service type, commonly used by customers to run databases and other large enterprise applications. Prices of these larger virtual machines are being reduced by up to 43 percent; for example, a virtual machine previously costing £1.05 per hour will now cost just 60p.
The new price reductions will apply to both the Internet connected Assured OFFICIAL cloud platform, as well as UKCloud's unique Elevated OFFICIAL cloud platform, which provides the scalability and flexibility of a genuine cloud platform in the lower risk environment of public sector networks.
UKCloud is committed to making it even more cost-effective for public sector customers to run large enterprise workloads and to store sensitive data in the cloud. A combination of industry-leading security credentials, service performance and an ongoing commitment to providing an unbeatable value, confirm UKCloud's unique position to support the ongoing digital transformation in the public sector.