More performance and the latest Windows 10 Pro operating system on the Panasonic Toughbook CF-54 mk2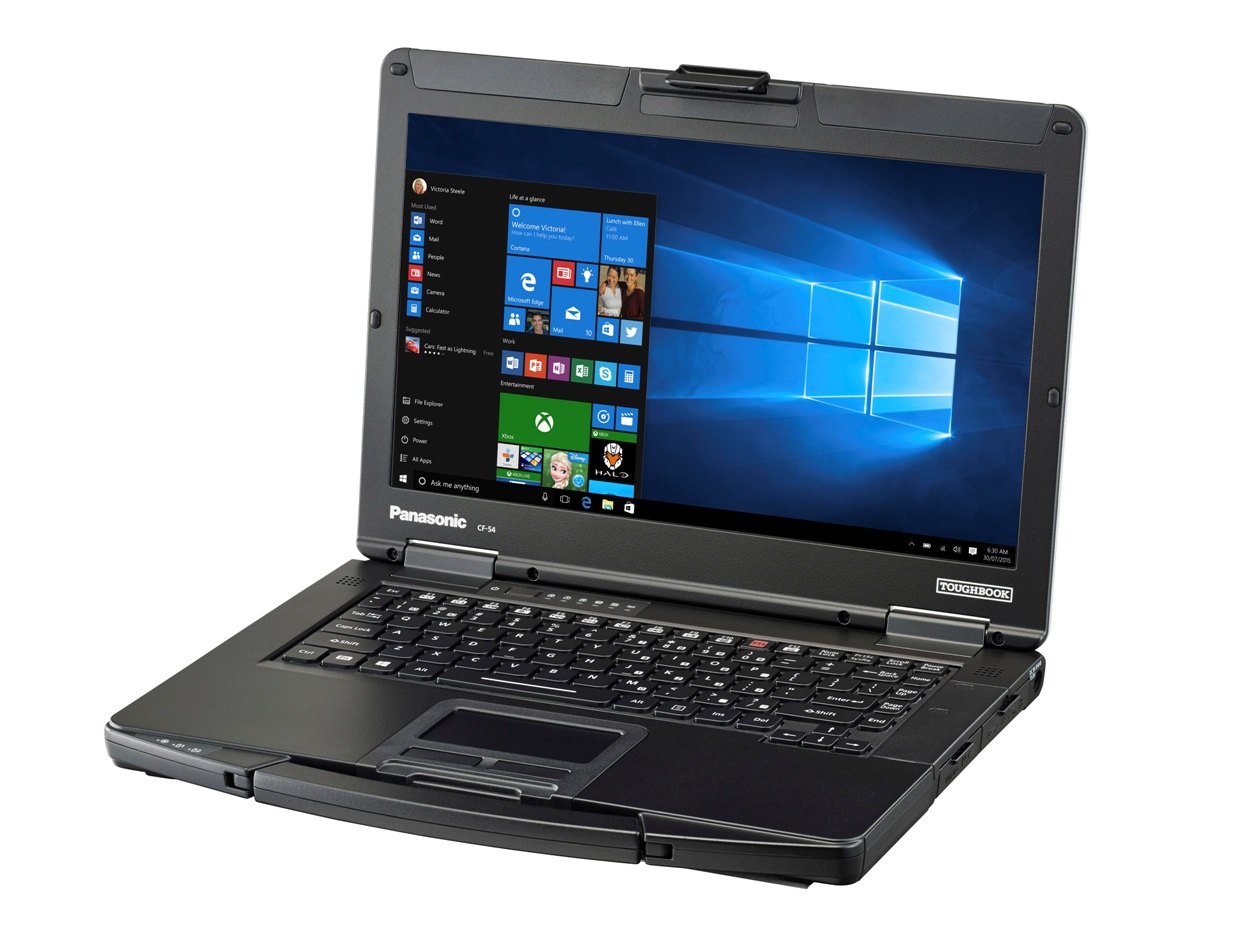 BRACKNELL, UK. 31ST MARCH 2016 Panasonic today introduces its latest generation Panasonic Toughbook CF-54 notebook and the world's lightest and thinnest semi-rugged notebook* just got even better. With more performance and the latest Windows 10 Pro operating system, the Panasonic Toughbook CF-54 mk2 continues to redefine the semi-rugged category.
This light weight, slim and attractive looking notebook with high end computing power and graphics performance makes it ideal for the mobile business worker whilst its durable design, highly flexible configuration options and multiple ports make it appropriate for blue collar and outside workforces. For example, the Panasonic Toughbook CF-54 can meet the R&D and diagnostic needs of the automotive and professional services sectors and the maintenance and repair requirements of field service workers, alongside the needs of mobile professionals such as claim adjusters in insurance, architects in construction and government and public safety personnel.
Category leading improvements
The latest Panasonic Toughbook CF-54 notebook delivers more performance for less power than its category competitors with the 6th Generation Intel® Core™ i5-6300U vPro™ Processor (3 MB cache, 2.4 GHz up to 3.0 GHz with Intel® Turbo Boost Technology). Improved graphics performance is delivered by the built-in Intel® HD Graphics 520 GPU. The Full HD version of the device also has the option of AMD FirePro™ M5100 graphics[1] for enhanced graphical performance.
The latest Windows 10 Pro operating system is pre-installed and offers downgrade rights to Windows 7 Professional with extended Microsoft Windows 7 Skylake system support[2].
Latest communication capabilities are delivered with Intel® Dual Band Wireless-AC 8260 WLAN and Version 4.1 class 1 Bluetooth.
"This latest version of the Toughbook CF-54 leaves its semi-rugged notebook category competitors in the dust. With its superb design, durability, power and flexibility it is equally at home in the hands of a busy mobile executive or in the challenging work environment of a field service engineer or automotive workshop," said Jan Kaempfer, General Manager of Marketing for Panasonic Computer Product Solutions.
Crystal clear display options
The 14" display comes in HD (1366×768), Full HD (1920×1080) or Full HD with capacitive multi-touch touchscreen to offer the clarity and visual detail required by different operatives.
Flexible and modular design
In a world where notebooks are becoming less flexible as they shrink in size, one of the biggest business advantages of the Panasonic is its flexible and modular design. Thanks to the optional configuration area[1], a DVD drive or 2nd Battery or PC card slot or USB key or Smart Card Reader can be configured based on customer requirements. In addition, a separate configuration port[1] is also available which can be used for a 2nd LAN or Rugged USB or dedicated GPS or 4th USB 2.0 port.
For mobile workers moving from one location to another, the versatility to connect when on the move is also an important consideration. The latest Toughbook CF-54 comes with the complete range of interfaces including a standard LAN port, VGA[1] and HDMI for data projectors and displays, a True Serial port[1] for connection to legacy systems, USB 3.0 and 2.0 ports[1] and a SD card slot. The device comes with a docking connector for vehicle or desktop mounting and an option for 4G LTE[1], dual pass through antenna[1], Contactless Smart Card Reader[3] and Fingerprint reader[3].
The HD model and the Full HD models (with and without touchscreen) come with a 256GB SSD as standard. Camera options include a 2 megapixel webcam[1] ensuring video communications can be carried out in any location or environment. The device also has a backlit[1] keyboard for easy operation in the dark.
The best of semi-rugged durability
Although a semi-rugged device, the Toughbook CF-54 is the best protected in its category with magnesium plating used on all four-sides, full keyboard and display area spill protection, and a honeycomb-style bonnet to provide maximum protection from impacts. The device can survive drops of up to 76cm. For ease of use, the device comes with its own integral carry handle and as an option can be easily branded with a company logo. Thanks to its ruggedness, CF-54 could also be vehicle mounted with the help of Panasonic approved 3rd party vehicle mount accessories.
With a single battery life of 11 hours[4], this workhorse can keep pace with the requirements of today's busy mobile workers and comes with a hot swappable battery option, which means the device can continue working and the battery changed without switching off the device. There is also a possibility to have a 2nd battery[1] with which a total battery life of up to 18 hours[4] could be obtained.
Peace of mind
Every Toughbook comes with a 3-year warranty covering hardware failures for systems used as designed and a 5-year spare part guarantee with a 96-hour repair commitment. Additional upgraded services are available including: Extended Product Warranty (4th/5th year), Accidental Damage Warranty, Battery Warranty (3/4/5 years) and HDD Warranty.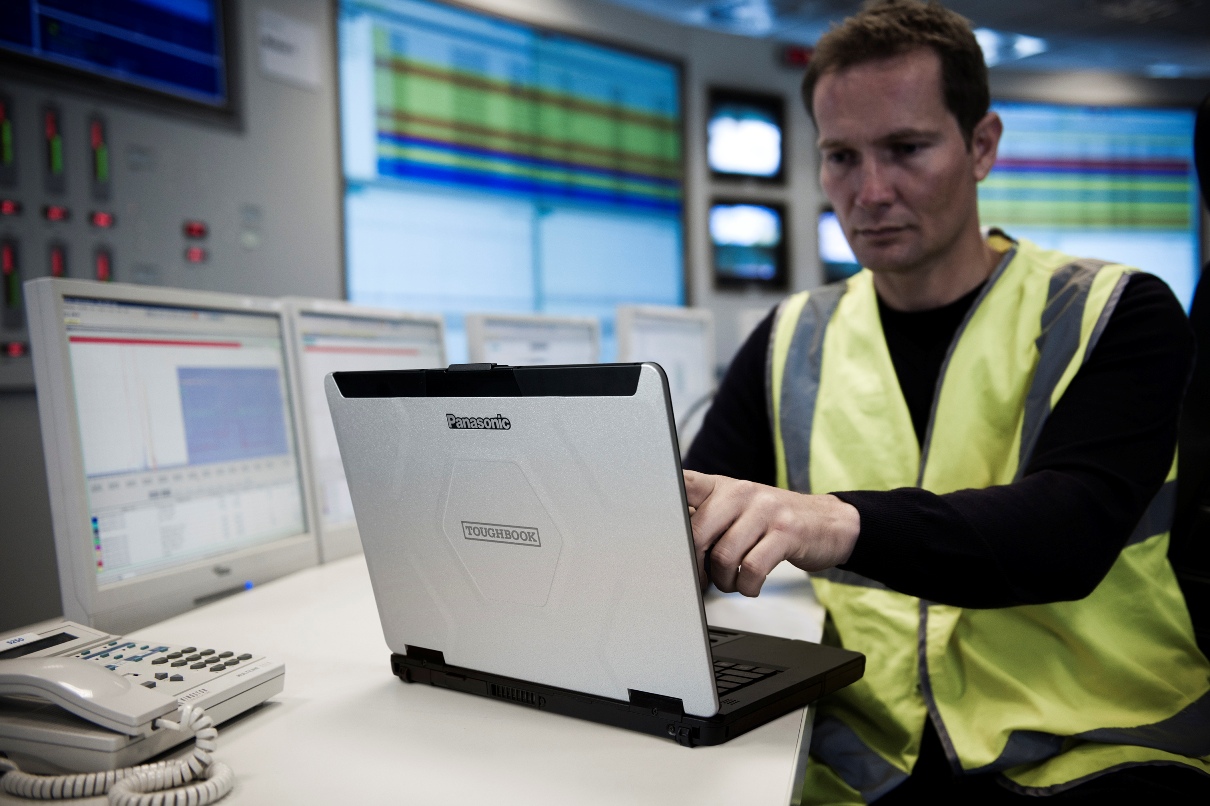 Pricing and availability
The Toughbook CF-54 mk2 is available from the end of March 2016 (ex-factory).
Toughbook CF-54 mk2 HD Model (without touchscreen and with 256GB SSD) from £1282 plus tax.
Toughbook CF-54 mk2 Full HD Model (without touchscreen and with 256GB SSD) £1396 plus tax.
Toughbook CF-54 mk2 Full HD Model (with touchscreen and with 256GB SSD) from £1733 plus tax.
For further information visit: www.toughbook.eu
* As of March 31st 2016, in the category of Semi-Rugged clamshell notebook PC with larger than or equal to 14.0" LCD. CF-54 mk2 has a thickness of 29.8 mm (1.17") and weighs maximum of 2.1 kg (4.63 lb.)
[1] Option
[2] http://windows.microsoft.com/en-us/windows/skylake-support
[3] Exclusively configurable by selecting one from Contactless Smart Card Reader and Fingerprint Reader.
[4] Measured by MobileMark® 2007 at 60 cd/m2 [nit]. Varies depending on usage condition or when an optional device is attached.