Moving analytics to the cloud opens a lot doors for users, but only if they keep costs in check and understand the 5 V's of big data — volume, variety, velocity, veracity and value.
5 V's of big data- Enterprises increasingly use the cloud for big data analytics. These platforms provide scalable alternatives that can save money compared to on-premises systems, but only if they're used properly.
Cost controls can be a problem for companies of all sizes and experience levels, even those well versed in cloud computing. That's why it's essential for users to understand cloud analytics and the five V's of big data: volume, variety, velocity, veracity and value. From there, they must learn to spend wisely to maximize the ROI.
The 5 V's and cloud analytics
Taking data and analytics to the cloud gives the user new options for handling analytics if it fits within the five V's of big data:
Volume
As the name implies, big data is all about the enormous size. The cloud provides virtually limitless storage capacity, which is why it's becoming an attractive option for businesses and government agencies with the ever growing data volumes.
Moving data and analytics to the cloud plays well in managing volume since it gives users the flexibility and scalability to meet peak demands. However, enterprises should still use discretion and shouldn't become data pack rats when it comes to cloud storage. Costs can add up quickly if users don't utilize lower-cost storage tiers when possible, or if they put too much unnecessary data in the cloud.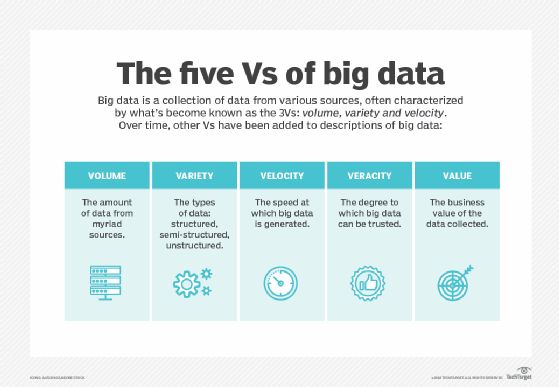 Variety
Variety, as a data science term, refers to heterogeneous sources, such as structured, semi-structured and unstructured data.
For example, an IT department might need to analyze semi-structured data from its back office and SaaS applications, while the accounting department wants to analyze structured data in the form of reports. Meanwhile, marketing wants to analyze pictures, videos, SMS texts and other data that doesn't fit into traditional database rows and columns.
Enterprises can use cloud-based data lakes to accommodate all of those analysis types and more.
Velocity
Velocity, in relation to big data in the cloud, is the high-speed accumulation of information that comes from SaaS apps, cloud platforms, IoT devices, social networks and any other data points relevant to a business. Velocity becomes more complicated as organizations attempt to add sufficient processing power to handle the massive and continuous flow of data being generated.