ASPIDER-NGI partners with BTG and plans for early adoption of eSIM Solutions.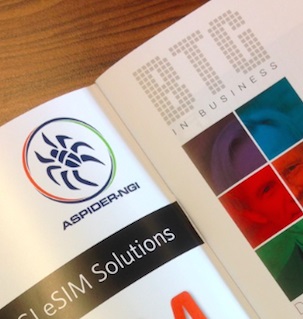 Boston and the Netherlands, July 13, 2016: ASPIDER-NGI, a leading provider of MVNE, IoT, content and connectivity management solutions, today announced a partnership with BTG and the availability of eSIM solutions for IoT, MVNE and Corporate clients.
BTG is an industry association of ICT and telecommunications users that represents the interests of Dutch enterprises and institutions that use business communications on a large scale. (www.btg.org). BTG has approximately 200 members including government organizations, commercial enterprises, research institutions, telecom service providers and operators.
Jan van Alphen, Chairman of BTG commented: "BTG connects organizations in the field of ICT and Telecommunications and our partnership with ASPIDER-NGI is helping our members to simplify switching mobile subscriptions, to better manage eSIM deployments and providing them with operator-independent solutions. We are seeing a huge demand for more flexibility in the use of new SIM technologies and we are pleased to have a trusted independent technology partner to help our members to accelerate the innovative use of mobile telecommunication services in business critical operations."
Jan Mooijman, CEO of ASPIDER-NGI added "BTG drives innovation and provides an excellent vehicle to understanding initiatives that have real impact for enterprise telecom users. Our partnership with BTG provides a secure eSIM implementation for members enabling access to roll out and control private apps on the SIM card. This allows for further integration of mobile telecommunication services into their business processes."
ASPIDER-NGI eSIM solution provides an end-to-end service for secure hosting of your eSIMs, management of your provider subscriptions and enablement of the integration of your private apps.
ASPIDER-NGI is an operator-independent company providing connectivity allowing you to build and control your own mobile solutions. We build, support and operate innovative MVNO and IoT platforms. We provide the network and expertise you require, and deliver with the flexibility and agility MNO's do not provide but your company needs to enable you to disrupt your market. ASPIDER-NGI delivers and supports voice, data, SMS, multi-IMSI and eSIM products to manage and connect billions of connections for IoT, MVNO and Corporate Mobile solutions. Hundreds of clients have been launched around the world, from traditional M2M and MVNO projects, to OTT and IoT OEM solutions for operators and Corporates. For more information, visit www.aspider-ngi.com.