New Enterprise Graphics Virtualization Card with AMD FirePro S7100X Multiuser GPU Technology Provides Highest Virtual Workstation Density that Leverages Dell M-series Blade Servers
New York, NY, June 14, 2016 – Amulet Hotkey Ltd., a leader in system integration for remote physical and virtual workstation solutions, announced the world's first hardware-virtualized GPU solution on Dell M-series blade servers. Amulet Hotkey's innovative system integration and design combines the power of AMD Multiuser GPU (MxGPU) and the scalability of Dell 13G PowerEdge M630 blade servers to bring the highest density, security, manageability and remote access of high-end graphics to enterprise virtual workstation and virtual desktop environments.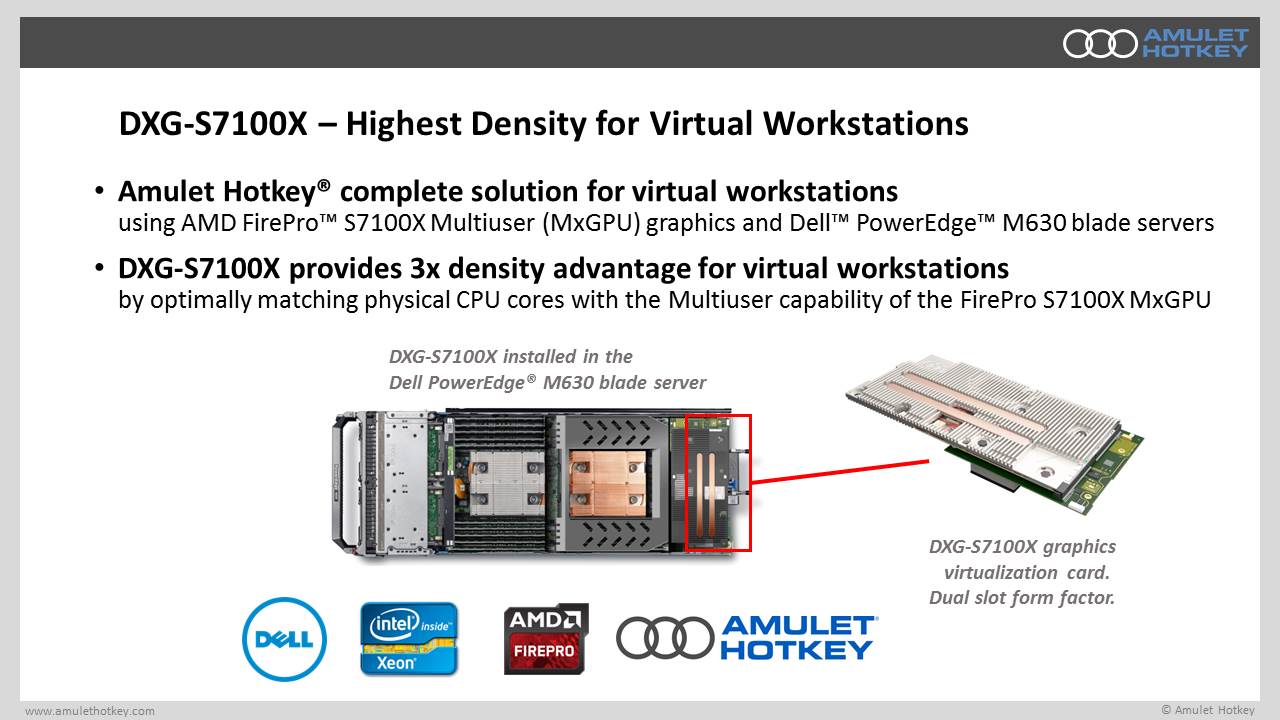 The DXG-S7100X is the result of a joint development between Amulet Hotkey, AMD and Dell Global OEM Solutions to integrate the AMD FirePro™ S7100X GPU with the Dell PowerEdge 13G M630 blade server. The DXG-S7100X provides the highest density virtual workstation solution due to optimal matching of physical CPU cores on the blade server with and the Multiuser capability of the AMD S7100X MxGPU.  In addition, the DXG-S7100X improves workstation experience providing consistency, scalability, manageability and enhanced security.  It allows enterprise IT to allocate predictable graphics and GPU compute resources to a diverse range of end-users across multiple devices and locations.
"We developed the DXG-S7100X virtual graphics card to meet the demanding requirements of graphic workstation users while meeting the scalability needs of enterprise IT," said Tony Hilliard, Global Sales Director, Amulet Hotkey Ltd. "Now with the integration of AMD Multiuser GPU technology and Dell M-Series blade servers, customers can virtualize workstation users and applications that previously required dedicated solutions."
Based on AMD FirePro S7100X, the DXG-S7100X provides key benefits including:
Consistent and deterministic workstation experience – The DXG-S7100X brings a consistent and superb graphics experience to VMware Horizon virtual workstations on a Dell 13G PowerEdge M630 blade server.
Highest virtual workstation density – The DXG-S7100X has more than 3 times the density of similar rack servers by optimally matching the blade server CPU core density with the AMD S7100X MxGPU Multiuser capability.
Scalability – A single DXG-S7100X supports a range of user densities up to 16 users depending on the GPU performance required and the software implementation.
Versatility – The DXG-S7100X supports multiple technologies to bring a range of graphics virtualization and GPU compute acceleration to virtual workstation and virtual desktop environments.
Cost-effective – Multiple virtual workstations can share a physical GPU on a single DXG-S7100X card with no per-user GPU licensing fees, combined with the high-density of Dell 13G PowerEdge M630 blade servers.
Multiple user types – The DXG-S7100X for a diverse range of graphics and GPU accelerated computing needs including knowledge workers, power users and designers/engineers.
"AMD's delivery of the industry's first and only hardware virtualization GPU product line demonstrates our commitment to provide customers exceptional graphics and fundamental API software support in leading edge solutions and form factors," said Ogi Brkic, director, product management, Radeon Technologies Group, AMD. "The addition of the AMD FirePro S7100X for blade servers is another example of innovative AMD FirePro S-series GPUs that deliver deterministic, secure, high-performance and enriched graphics experience to more enterprise workstation and desktop users."
"Partners such as Amulet Hotkey continue to leverage Dell OEM solutions to drive data center efficiency and deliver maximum return on investment to their customers," said Joyce Mullen, vice president and general manager OEM solutions, Dell. "The integration of AMD FirePro virtualized server GPUs and Dell 13G PowerEdge M630 blade servers demonstrates Dell's commitment to providing future-ready OEM solutions that leverage innovative technology and empower customers to do more."
Availability and Additional Information:

The DXG-S7100X is available now integrated into Dell PowerEdge M630 blade servers.
Full flexibility to assign any configuration from a single user or up to 16 users
Support for four displays per virtual workstation up to 4K display resolution
API Support: DirectX 11.1, OpenGL 4.4 and OpenCL 2.0
OS: 64-bit Windows 8.1, Windows 7 and Linux (32-bit and 64-bit)
Memory: 8GB ECC GDDR5 with 256-bit memory bandwidth
Multiuser security with hardware enforced memory isolation.
Support for VMware vSphere and Horizon
Support for Horizon clients including Amulet Hotkey PCoIP zero clients and clients using PCoIP or Blast Extreme remote display protocol.
For more information visit http://www.amulethotkey.com/products/blade-gpu/dxg-s7100x/ or contact Amulet Hotkey http://www.amulethotkey.com/contact-us/.
Become a fan of Amulet Hotkey on Facebook
Connect with Amulet Hotkey on LinkedIn
Follow Amulet Hotkey on Twitter